A common crossroad where investors find themselves in their investing journey is to whether invest in a newly launched property or a property which is on resale. A common argument is that you should invest in a property available for resale when you are a new investor because the element of risk is less in that case, whereas if you are a seasoned investor, then you can invest in a new property launch because you have the experience and the foresight required to actually do the cost benefit analysis of the investment you are going to make. 
A new investor doesn't have that arm length when it comes to considering all the risk and making the right decision. 
Then different reasons and considerations for investing in a property has impact on your choice. If you are buying a property to put it on rent, then you will have a different set of considerations compared to a buyer who wished to buy it for 'own stay'. In case of renting out you will look at cold hard numbers and avoid looking at how pretty a property looks. 
Regardless of whether you are buying a property for your own private use or for renting out to maintain a stable renting income, this article will you make an informed wise choice.
Making a case for investing in resale property:
1) Property can be immediately rented out:
The basic reason why a resale property is a better option is that it is in a ready state whereas a new launch property may become available for living in a few months or years' time. 
This allows you to immediately put that property up for rent and start deriving side income. Sometimes if you are lucky, a tenant is already living in that property and you just have to buy the property from the landlord. 
Some investors prefer resale property only because you can avoid paying or reduce the mortgage for the newly invested property if you are able to find a tenant fast.  
2) A sense of predictability of rental income:
When it comes to resale property, you can easily predict the rental income by looking at the past rental invoices given to past tenants. You can also ask around about the rental rate in properties that are in the vicinity of that property, thus calculating your own rental income. 
This will allow you to see actual rent rates for the property you are considering to buy and will make your investment more calculated and informed. 
3) If properly checked, there will be fewer surprises:
The most important benefit of investing in a resale property is that you can do proper due diligence. You can check each and everything and decide whether the property is of your liking or not. You specifically know what needs to be fixed, the contractor can give you a ballpark figure of the amount you would have to invest to make it right.
But when it comes to newly launched property, you can't physically check because the property might be under construction. Most of what you are buying will be read off the brochure or informed through social media promotions run by agencies like The Marketing Heaven, so it takes someone trained and experienced to be able to visualise the purchase.
While developer will usually fix any defect during the initial period, it can cause a delay for a new tenant to settle in the house. Then there are some things which you can't fix no matter what. For example, the garbage chute and tunnel can be poorly designed which may lead to smell and clogging – this cannot be easily corrected and will affect the property's rentability and resale value. 
4) A better chance of spotting under-priced units:
Sometimes, with luck, you might be able to find people really want to quickly liquidate their property to pay off their mortgages or loans.  Or sometime people want to get rid of property dues to an emotional reason like if they had a divorce or any such reason for a matter. These people are willing to lower the price and sell as soon as possible. With new launch property, developers normally control the prices of the development all the way from launch till the project is completed.
5) Resale properties are generally bigger in size:
Generally the older properties were bigger in size. New property developments are mostly high rises with smaller two or three bedroom apartments. For those who is buying a property for own-stay, this becomes an important consideration vs. a investor looking to rent it our, or buy into a property at a lower price with a mind to sell it off quickly when the target profit is made.
6) Generally priced at a lower PSF (price per square foot):
Older properties which are made according to standards which are not up to the mark in the present times. Newer properties build in prime locations or big localities generally are priced at the higher price per square foot. This is one more that is swaying some home buyers to consider the low priced older properties. Again the final decision depends on the objective of you as the home buyer – whether  intend to buy into the property for a longer term period to stay in, or if you intend to sell it off when the property has main a certain level of capital appreciation. 
Making a case for investing in a new property:
1) New facilities and features:
Main appeal of a new property is that it is brand new, clean and tidy. Everything is bright and shiny, which obviously has an impact on rentability and appeal for the tenant. You don't have to get anything fixed, if you are lucky. It is ready for the tenant to shift in without any money being spent. 
Then the other benefit is that new properties are developed with all the new technologies and features which you won't find in a resale property. In the era of smart homes, al the technologies are integrated with the house in the construction phase only. 
2) Maintenance cost is low: 
The older an apartment gets, higher will be the maintenance cost when you buy it. You would have to spend a substantial amount of money to just bring it to a condition where a tenant would even start considering it. Resale condos would have issues like damped walls, choked plumbing and other issue like that. 
3) Early bird discounts:
When it comes to new condos, the developers in order to raise early cash give discounts to people who buy it before even the construction starts. That is one thing which will bring you immense benefits if you spot and invest in a project yet to be started which according to you will be a good investment. For investors looking to make the initial capital gains of new project launches, entering at the lowest price will be key strategy so that as the project nears of reaches TOP,  there will be a decent certain level of profit to lower him to exit.
4) Range of unit choices are wider:  
With new new condos, buyers are generally able to pick and choices from the wide inventory of units when the project launches. Of course there is the initial balloting where the Phase 1 buyers get the first pick of their favourite unit. Having the choice to pick from the desired floor, condo facing and unit number can be a very important factor in determining the future potential of selling the unit.
5) Monthly mortgage is spreaded out (during the initial period):
In the case of a new launch project, the payment schedule s stretched over the timeframe in which the development gets finished. This period is of a few months to more than over a year. Thus the investor's initial payment are greatly reduced and the mortgage amount will slowly increases over the period of development.  This has the benefit of reducing the monthly mortgage allows some investors to take up a unit, secure a loan and sell of the property by the time the project is near completion.
6) Capital appreciation is better for new launches:
Ok, this is a little 'secret' I know from studying numerous new project launches and comparing them with older projects all around Singapore over the years. Most buyers will say that new launches are priced higher than older resale condo when they compare psf value. No doubt, that is true that psf values are higher for new projects, but… should psf value be the only factor for purchase? 
It depends. (Please  reference to previous section Point 6:  Resale Condo Generally priced at lower PSF) 
If you are just buying for stay and do not intend to sell or buy in the future again, then yes – that will be good for you. However if you have an intention to look for capital appreciation and possibly selling in the next 5-10 years period, then please see this following illustration  of Jewel@Buangkok and The Quartz in 2013
At that time of comparison, Jewel@Buangkok launched in the market at an average of $1,150psf. In comparison, The Quartz, an older condo which is just across the street was priced during the same period of at $950psf. Seems very obvious right, why would anyone buy into Jewel@Buangkok which was $200psf higher.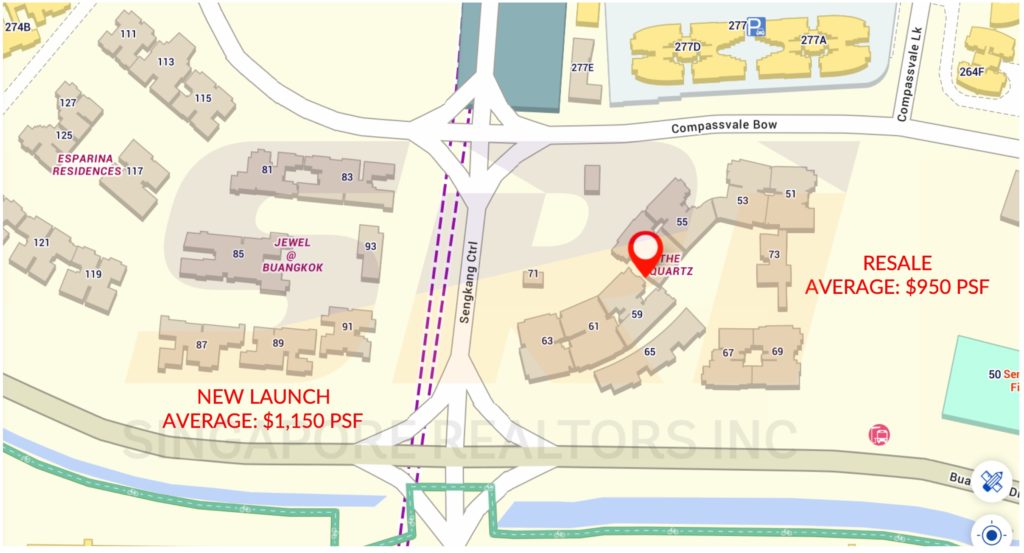 The growth lifecycle of most 99 year leasehold properties go through 2-3 stages: Healthy Growth, Slow/Stagnant Growth, then into Decline Stage. 
Healthy grow stage occurs from Year 1-8 years of the project lifecycle, followed by a slowing growth for a longer period of time, and starts on a  decline at the around the 40 years period as the lease draws nearer to the end. (We are all well educated about this from the much discussion about the aging HDB flats, the principles are similar).
So when we put both Jewel and Quartz project life pricing side by side, we see these differences.
In the above, we can see that when The Quartz launched in 2006 at about $500psf, it went through a steady growth over the years by about 123.46% in 8 years. Thereafter it went into slow down and decline such that by 2019, it was actually declining in comparison to its peak at 2013. Imagine if you buy into The Quartz in 2013, you will be making losses in 2019.
However in the case of Jewel@Buangkok, despite its higher psf, it's value went on a healthy grow period to hit close to $1400psf in 2019.
Thus the above case illustrates how market entry and exit strategy plan is so important for property investor. Looking at capital growth potential is not a mere comparison of surface psf value.
So, which is better for investing?
According to trends, property investments remain good form of investment to hedge against inflation.  Capital gains are higher in the case of newer properties but the price per square foot is lower in the case of older properties. If the aim is to make and investment and sell it off in few years to reap a profit, then investing in a new property would be the right choice and if the aim is to live in a property for longer period then investing in an old property would be a viable option. 
Property investment is a combination of both science and art, data and psychology. While there are all kinds of information and tools online on property, it is still impossible to have perfect knowledge on every piece of information.